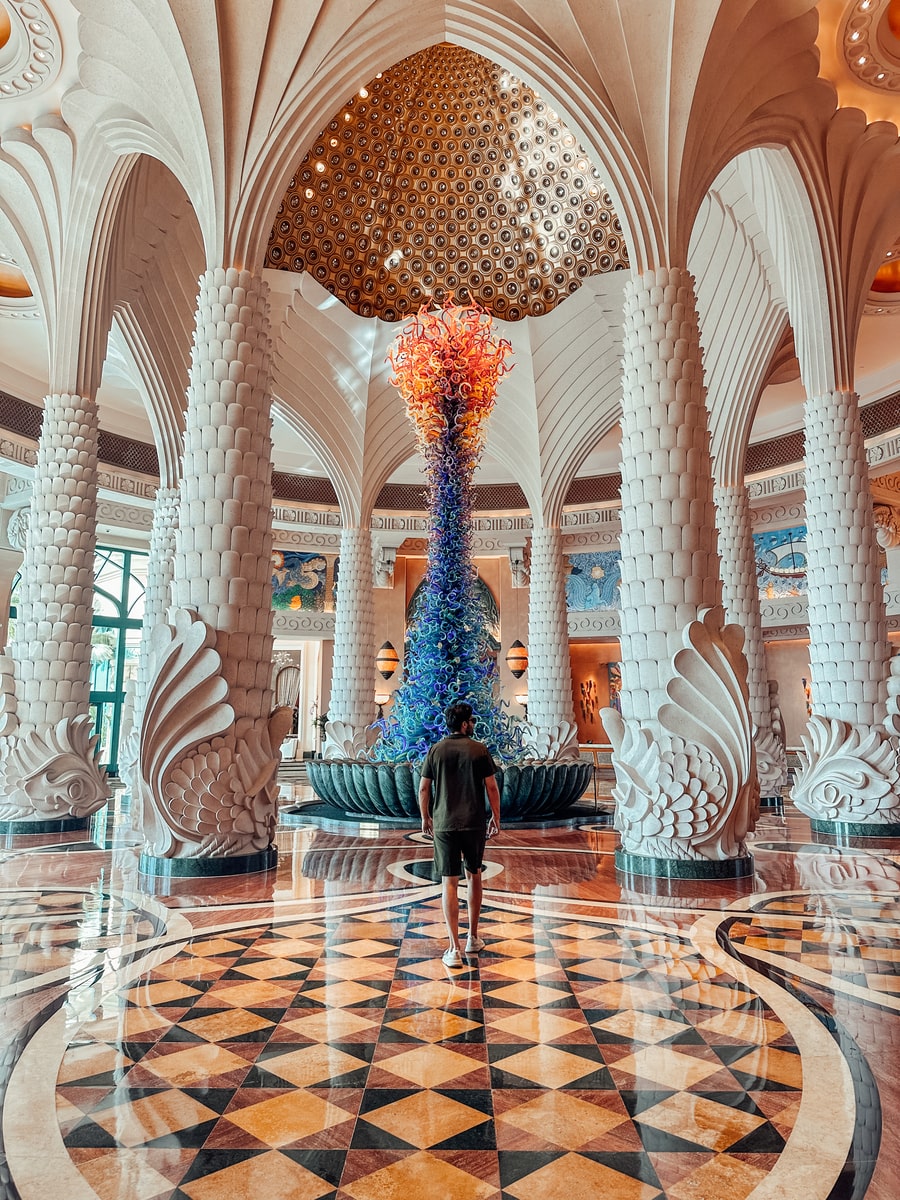 Marco Parrino's Majestic Sojourn at Atlantis The Palm
Greetings, luxury enthusiasts! I am Marco Parrino, your trusted guide to the finest experiences the world has to offer. Today, I invite you to join me on a splendid journey to the iconic Atlantis The Palm in Dubai, a place where architectural grandeur meets the serene beauty of marine life. Let's embark on this luxurious adventure!
A Grand Welcome to a Unique Paradise 🌴
As we approached Atlantis The Palm, the first thing that caught our eye was the distinctive and unique architecture of the hotel, a sight to behold indeed! The marine-themed grandeur, adorned in hues of white, bronze, and gold, welcomed us into a world of luxury and tranquility. The hotel's design is inspired by the myth of Atlantis, with elements that pay homage to the ocean and marine life. Its majestic arches and intricate details narrate tales of luxury and innovation, making it a beacon of modern architecture and elegance.
A Suite that Epitomizes Luxury and Comfort 🏢
Our suite was nothing short of a dream. Featuring a spacious living room, two lavish bathrooms, a cozy bedroom, and a sprawling terrace, it offered a panoramic view of the beach, the iconic palm, and the inviting pool. Every detail in the suite was meticulously crafted to offer a blend of luxury and comfort, with touches of gold and plush white beds that create a haven of tranquility amidst the bustling city.
The Imperial Club: A Haven of Exclusive Delights 🍽️
Our journey began at the Imperial Club, an exclusive sanctuary open only to guests, offering a serene environment to enjoy gourmet food and exquisite drinks. It's the perfect place to start your day on a delightful note, surrounded by peace and luxury. The club provides a range of culinary delights, from gourmet dishes to fine beverages, promising a tantalizing start to your day.
Sun-Kissed Moments at the Imperial Club Beach 🏖️
Next, we ventured to the Imperial Club Beach, a private haven where we basked in the sun and embraced the golden tan that the Dubai sun generously bestowed upon us. The beach, with its pristine sands and azure waters, promised relaxation and rejuvenation, offering a tranquil escape from the bustling city life.
A Journey through The Lost Chambers Aquarium 🐠
Our adventure continued at The Lost Chambers Aquarium, a magical underwater world home to over 65,000 marine animals. This aquatic wonderland offers a glimpse into the mystical marine life, promising an experience that is both educational and mesmerizing. The aquarium is designed to resemble the lost city of Atlantis, with tunnels and mazes that take you through a fascinating journey of underwater life, housing some of the most exotic marine species in the world.
Sweet Surprises Await in Your Suite 🍫
Returning to our suite, we were greeted with a delightful surprise – a piece of chocolate artistry that was as pleasing to the eyes as it was to the palate. It was a sweet testament to the hotel's commitment to offering personalized and delightful experiences to its guests, adding a touch of sweetness to our luxurious sojourn.
A Culinary Fiesta at Saffron 🍽️
Our gastronomic journey reached its pinnacle at Saffron, where a spread of diverse cuisines awaited us. The breakfast here is a celebration of flavors, offering a range of dishes and drinks that promise to satiate every culinary desire, all with an assurance of top-notch quality. The restaurant is renowned for its extensive buffet spread, offering a gastronomic journey that spans across various cuisines and flavors.
A Farewell Ride in Style 🚗
As we bid farewell to this paradise, a private driver was ready to escort us to the airport, ensuring that our journey ended on a note of luxury and comfort, just as it had begun.
For more insights and to plan your own majestic journey at Atlantis The Palm, explore the following links:
Shared by Atlantis The Palm
Visualizza questo post su Instagram
Visualizza questo post su Instagram